Cuff 'em and free 'em from the floor! Because every dog has the right to remain standing.
Whether you have a newborn puppy or an aging dog struggling to stand, Canine Cuffs has a wide range of products to help your dog live a happy and full life.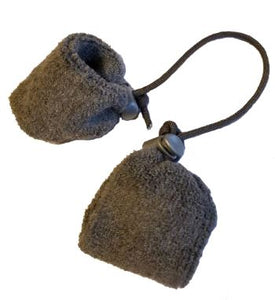 Canine Cuffs
This simple yet effective device, also known as a hobble, will prevent your dog's hind legs from splaying (doing the splits) on slippery surfaces such as hard wood and tile floors.  Flexible, adjustable bands placed just above the hock / tarsal joint will give your dog the power to stand on his/her own.
If you've ever had to hobble your dog before using tape, save yourself the daily frustration of constantly retaping with a pair of Canine Cuffs.
Available in 4 Different Versions
---
We offer 4 different versions - Original, Max, Max Plus and now Puppy.  Each dog is different and so are their needs.  We're confident we have a solution that will work for your dog.  So, what are the differences between the versions?
Original - the original design that started it all.   Super soft, comfortable cotton bands that your dog probably won't even know are there, connected by an adjustable cord.  Designed for dogs that need just a little extra assistance and are OK with some flexibility and give in the bands.  Available in 3 sizes and 4 colors. If you order black bands, we ship with additional replacement bands at different sizes to help provide a better fit within that size range.
Max - soft, medical grade VELCRO® brand straps that can easily be adjusted to fit exactly as needed and connected by an adjustable cord, for Max control.  Available in black in 4 sizes.
Max Plus - the same soft, medical grade straps and adjustable cord as the Max with the added bonus of a plastic buckle with clips.  These additions allow you to easily disconnect the cord when your dog doesn't need the extra support, such as on walks or other activities.  Available in black in 3 sizes.
Puppy - simple, small, adjustable elastic band designed to address swimmer puppies, who struggle getting their back legs underneath them to stand. The newest item to the Canine Cuff collection.
Watch the Original in action
---
Our Story
As our dog Max got older (17 years old), his knee and hip joints slowly deteriorated.  At times, we would come home and find him spread out on the wood floor, unable to stand up on his own.  It was heartbreaking for us and demoralizing for him.
We tried a number of products available on the internet to improve traction for his paws.  Unfortunately for Max, those proved unsuccessful.  We added additional rugs in high traffic areas, which helped, but he would still find his way off the rugs and back into trouble.  That's when we stopped trying to solve a traction problem and started trying to solve a splaying problem.
After a few trials and errors, we came up with a simple, flexible solution that was comfortable for him and did not impede his normal walking motion.  We doubt he even knew it was on him.  The elastic bands provided a perfect balance to support natural movement with just enough assistance to recover from slippery situations, by himself.  With his confidence restored, he returned to moving freely about our house.
Since then, we have branched into developing additional products to meet an even wider set of needs to support the canine community.
FAQ
Does it really work?
Absolutely!  Hundreds of dogs have already benefitted from this.  Check out the video above.  Just as his hind legs start to separate, the product takes effect, stopping the separation of his legs so he is able to recover on his own.  If your dog needs a little extra help on slippery surfaces, this may be the perfect solution.  Many of our customers have commented on how much of a difference this has made on their dog's life.  If for some reason you don't experience the same level of success we and others have had, simply return the product within 30 days for a refund.  If you have concerns whether this product would be beneficial for your dog, we encourage you to consult your veterinarian.
Will my dog still be able to run with it on?
Maybe, but we don't recommend keeping the product on your dog during running activities to avoid potential injury.  One of the great aspects of Canine Cuffs is the flexibility in product versions to meet different needs.  If you still want to run and play with your dog outside, you can easily slide the Original on/off or hook/unhook the cord with the Max Plus, both of which can be accomplished in seconds.  (Note: with the Max, you will have to readjust the bands each time you take them off and put them back on, not overly time consuming, but not as quick and easy as the other two versions.)
Will it interfere with "bathroom" breaks?
Our male dog was a "squatter" when relieving himself, so there was no issue doing either duty.  As already mentioned, the product is flexible and can be configured to meet your dog's needs and can be easily taken off and put back on if needed. 
Is this a replacement to a traditional tape bandage hobble post-surgery?
The Max and Max Plus versions can be used for this purpose as they can be configured for a more restricted motion (the Original has too much "give").  We strongly encourage you to consult your veterinarian for therapeutic recommendations. 
I'm interested in purchasing this, but which one should I get?
All of them ;)  Seriously, if your dog is only occasionally struggling, the extra support from the Original may be enough.  If that doesn't work or doesn't fit quite tight enough, return it within 30 days and upgrade to the Max or Max Plus.  If you feel your dog will be wearing this device all the time, try the Max.  If you would like the quick flexibility of taking the cord off for walks or other activities, try the Max Plus.  If you've read this much, you're probably seriously thinking about it.  Contact Us and we'll be happy to provide advice.
What type of shipping do you offer and how quickly does it ship?
We offer 3 levels of shipping, you choose what works best for you: Standard (estimated 3-7 business days), Expedited (estimated 2-3 business days), Overnight (1 business day). Orders received before noon Eastern time typically ship out that day. Orders received after noon typically ship out the following day. We do try to exceed those benchmarks as we know your order frequently has a timely need, but those are our standard shipping targets. Please note, shipping is based on business days (Monday - Friday, Saturday is not a business day). Example, if you place an Overnight order on Thursday afternoon, it will likely not ship until Friday morning with expected delivery on Monday. Also note, only overnight shipping is guaranteed by shipping carriers and eligible for refunds if they fail to meet that service level. Shipping is beyond our control and we will only refund shipping fees if we are able to get a refund from the shipper.
Product Sizing
Measure the circumference of your dog's leg above the hock / tarsal joint (all the way around, not just the width) and choose the bands that fall within that range.
Original Version
We offer 3 different sizes for the elastic bands.  The bands are soft elastic cotton bands, so they are flexible and machine washable.  You want to be sure the bands are not too big and falling down the leg and not way too small where they may be tight and uncomfortable.  When in doubt, get the smaller size as a little tension will help keep the bands in place and still won't be tight enough to restrict circulation. 
Small bands are for dogs measuring between 1.5 and 4 inches. 
Medium bands are for dogs measuring between 4 and 6 inches.
Large bands are for dogs with a measurement greater than 6 inches.
Our 30-35 pound dog shown on this site was a medium.
Note: if you order black bands, we ship with additional smaller bands within that size range to help provide more options for a better fit.
Max and Max Plus Versions
We offer 4 different sizes for these bands. 
Extra Small are designed for very small dogs roughly up to 15 pounds with a measurement up to 2 inches. (Note: only available in Max version)
Small bands are intended for dogs roughly 15 to 25 pounds with a measurement between 2 and 4 inches.
Medium bands generally support dogs 25 to 60 pounds with a measurement of 4 to 6 inches.
Large bands are designed to support big dogs with a measurement greater than 6 inches.
Puppy Version
No sizing needed. We ship 3 bands in each order with slightly different material widths, 1/4 inch, 1/2 inch and 5/8 inch wide. These are intended for very young, small puppies. If your puppy is 6 weeks or older and over 10 pounds, you may want to consider getting the Original small version that has worked well for many breeders.